Bottled gasses = Propane, Butane and Welding Gasses
We sell Energas Propane and Butane for all your domestic and industrial needs for:
Camping
Caravanning
BBQ's and cookers
Heaters
Blow torches
Welding
Bottles are in stock to take away today!
If you have an empty cylinder please bring this with you, If you don't have a cylinder to return please bring the gas regulator (adapter) from your appliance to ensure you get the correct bottle for your appliance.
We also Supply various industrial gasses including:
Oxygen
Acetylene
Mig Welding mixes (argon / CO2 mixes)
Argon
Nitrogen
CO2
Propane
Butane
We keep these industrial gasses in range of sizes please Ring for more details Tel. 01977 603399
Adams Gas Rent Free Welding Gas
We supply Rent Free Welding Gas, 10ltr & 20ltr cylinders No rental to pay. Just pay for the cylinder and take it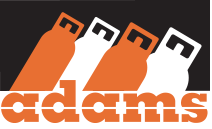 away. Ideal for Hobby welding. We have the following in stock to take away today:
-Mig mix
Argon
Co2
Oxygen
Acetylene
Cellar gas 60/40 70/30
Other cylinders & sizes available
on request
Adams Gas cylinders can be exchanged with us.
Welding Supplies
Mig

torches, tips, shrouds, tip adapters, liners

Mig

wire -

gassless

fluxed corded, steel, stainless steel & aluminum 0.45kg 5kg 15kg sizes
Cutting torches, cutting

nozzels

, nozzle cleaners, hoses
Cutting disks, grinding disks, flap disks, poly abrasive disks
Gas regulators, flash backs, hoses, fittings, flow meter

Tig

rods, Brazing rods,

CCMS

rods
Welding gauntlets, welding helmets old style and automatic type, lens for masks
anti spatter spray, tip dip
Welding electrodes, earth clamps, stick holders, earth cable
Unwanted gas bottles - if you have any old or unwanted gas bottles you can drop them off at our shop address = Stead Fuels Pottery St. Castleford WF10 1NJ